DO14
High-Speed Off-Road Autonomy
Deep Orange 14
For the 14th cohort of Deep Orange, Clemson automotive engineering students designed, built, and validated an autonomous off-road vehicle to deliver disaster relief supplies and map local environments without putting humans in harm's way.
The team developed their reconnaissance and relief prototype in partnership with the U.S. Army Ground Vehicle Systems Center (GVSC). To make such an ambitious project possible, two cohorts of Deep Orange students collaborated across three years to develop this non-combat, optionally remote-controlled vehicle from the ground up.
The vehicle incorporates a tracked vehicle design, open autonomous vehicle architecture, series-hybrid electric powertrain, and disruptive innovations to advance the state of autonomous technology and equip students for successful careers.
After students graduate, Clemson researchers will use the Deep Orange 14 vehicle as a validation and verification tool for projects out of the University's Virtual Prototyping of autonomy-enabled Ground Systems (VIPR-GS) Center.
View the technical specifications.
Critical Vehicle Functions
The vehicle addresses two mission scenarios, which students used to determine the vehicle's technical specifications and critical functions: Cold weather disaster relief and urban reconnaissance.
Autonomous Off-Road Path Planning
Using LiDARs, cameras, and GPS, the Deep Orange vehicle navigates autonomously through unstructured, dynamically-changing environments. The autonomy algorithms can plan missions through unknown terrain, gathering information and updating maps based on the on-board sensors.
Off-Road Maneuverability
With its 24-inch-wide tracks, the Deep Orange vehicle can traverse almost any terrain. It can travel at speeds up to 45 mph, scale 18-inch-high obstacles and perform a full 360-degree pivot-in-place in less than two seconds.
Landscape Reconnaissance
After a natural disaster such as a hurricane or earthquake, the Deep Orange vehicle can venture out to gather information about the changed landscape and determine the traversability of the terrain to aid subsequent logistical support. Exterior pan-tilt-zoom cameras can be manipulated and viewed remotely while the vehicle moves autonomously. Collected data is compiled into a map to be wirelessly sent via 5G network for analysis.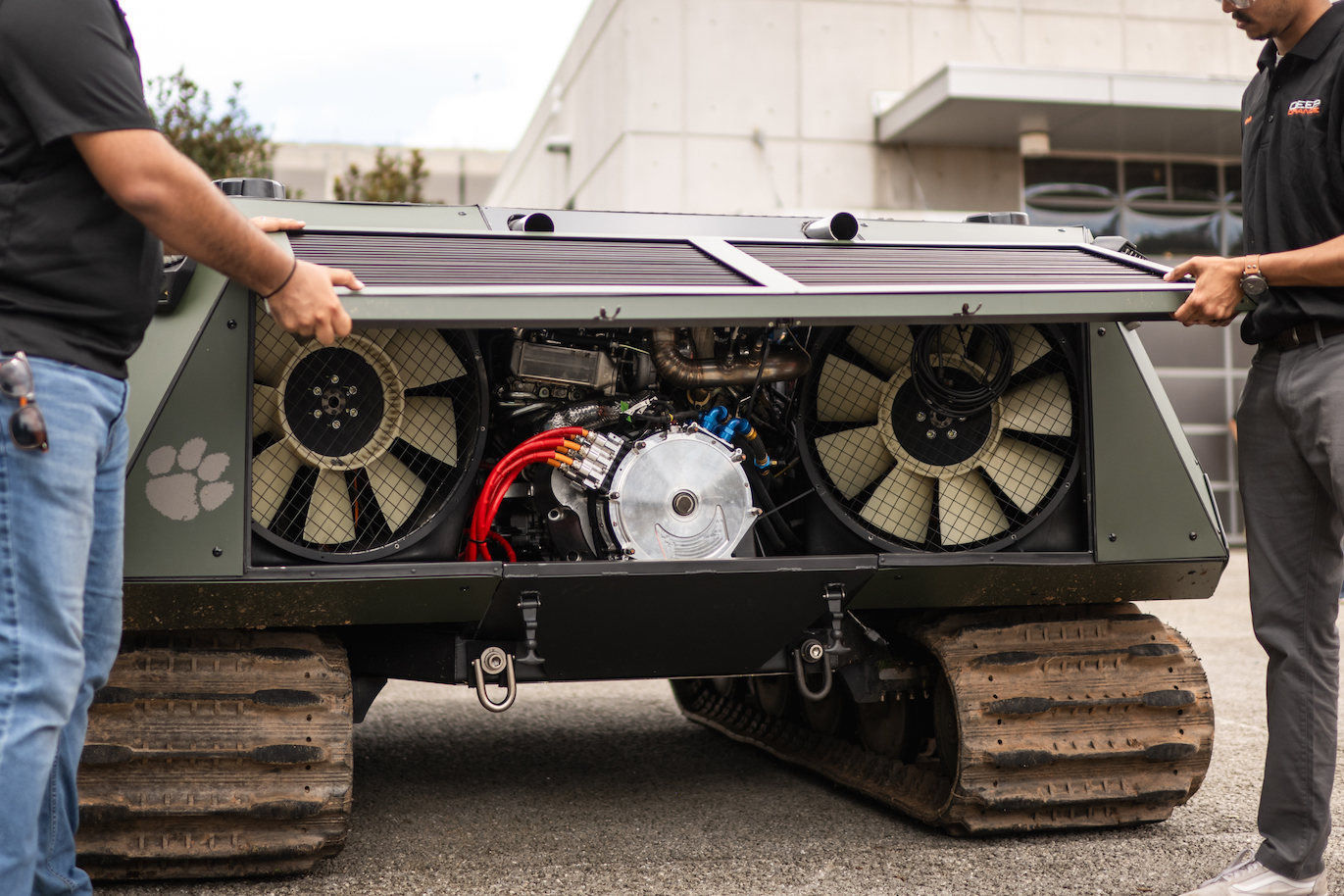 Series Hybrid Propulsion
The vehicle's tracks are powered by permanent magnet synchronous motors that can produce 340 kW (456 HP) of peak power per track. A 53kWh battery allows for eight hours of low-speed silent watch capability. In addition, a 3.0L V6 onboard diesel generator can fully replenish the battery in 30 minutes, provide additional power for the traction system during high power-demand maneuvers or act as a mobile generator for survivors when it reaches its destination.
Dynamic Research Platform
With an intuitive user interface for remote control and autonomy, the Deep Orange vehicle is ready to be used by researchers working on advanced autonomy, energy management, vehicle dynamics and digital twins. It includes extensive sensor suites for vehicle dynamics, powertrain and energy management, and thermal management. The data for all these sensors are accurately time-stamped and curated to make them available for further analysis by researchers.
Finished Concept
Upon completion, students validated the Deep Orange vehicle in the field to achieve a top speed of 35mph, 360 degree pivot in place in two seconds, and scaling a 18″-high obstacle.
Students
DO14 AUTOMOTIVE ENGINEERS & INNOVATORS
Robert Prucka
Director, Deep Orange Program
Chris Paredis
Project Lead Faculty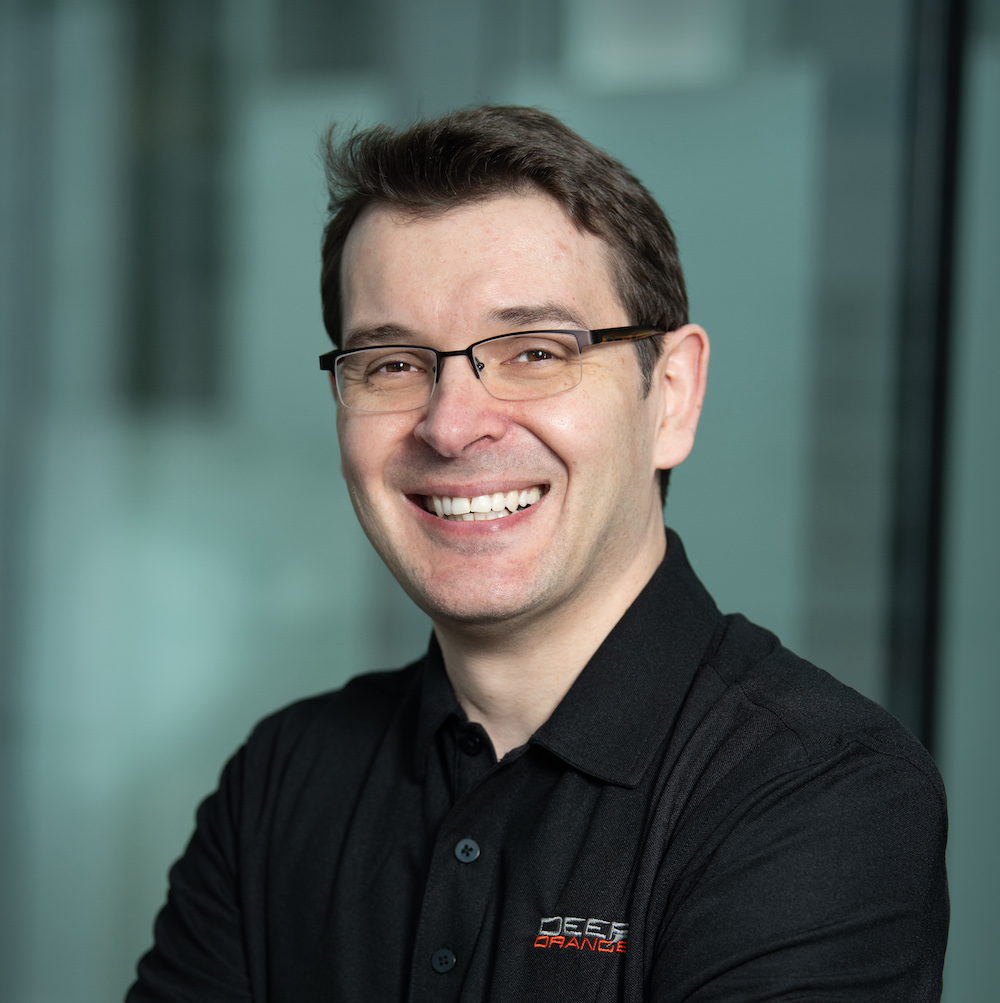 Matthias Schmid
Faculty Advisor, Vehicle Dynamics
Morteza Sabet
Faculty Advisor, Structures
Anshul Karn
Deep Orange Project Manager
Trupti Nyalkalkar
Deep Orange Project Manager
Partners
A project made possible through collaboration
The following organizations have provided generous support, in-kind contributions, and mentoring to achieve the objectives of Deep Orange 14.